Don't Dig Up the Dead
Every hole digs up a soul
You must find 3 magic relics to help rid the land of evil. Use the Find-O-Meter and your trusty shovel to search the forest. But if you dig up the dead you'll need to fight them off to stay alive, so pay attention to everything you unearth...it might just save your life.
Find more than 30 items scattered throughout a vast forest
Challenging shmup action as you fight off the dead
Simple and rewarding inventory management
Secrets and riddles abound
Playing the game
Gamepad and keyboard supported. Gamepad recommended.
D-Pad/Arrows: Movement
B Button/Z: Action button. Dig/shoot. Hold down to dig.
A Button/X: Inventory
Start/P: Pause and settings
Explore the forest while paying attention to the Find-O-Meter. When the needle points at red and beeps, hold down the action button to dig and see what you've found. Use the items you dig up to power up. And keep an eye out for chests and unlock them to get powerful upgrades.
But remember, every hole digs up a soul and sends it into the wild. If you get caught by a ghost, you'll have to defeat it before you can continue on your quest.
When you find a magic relic, take it back to the old man in the village. Find all 3 and you can win the game!

Read the manual for more gameplay details (PDF)
More challenges
There are no in-game achievements but once you've completed the game, play again and challenge yourself:
Can you dig up all the items?
Can you beat the game without opening a chest or equipping an item?
Deluxe edition for just $2
For just $2 you can get the Deluxe Edition bundle. Make sure you select the Deluxe file when you download! The pack includes the core game plus extras including:
Strategy guide
Maps
Special in-game item
Trainer cartridge
The Deluxe Edition is only available as a download. Make sure you select the Deluxe file when you download.
PICO-8 Edition
If you already own the PICO-8 console, you can play the game using Splore or by running LOAD #DONTDIG from the commandline.
Credits
Game by Brian Vaughn (@morningtoast)
Art & Animations: @morningtoast, @paulhamx
Music & Sounds: @gruber_music, @kevinthompson
Testing: @jarbochov, @barneysangels
Game made with PICO-8 with help from the wonderful #indiedev and #pico8 communities.
Changelog
v1.1 (2/6/23)
Added: Total stats shows on inventory screen
Added: Every hole dug is now marked with an "X
Changed: Balancing and timing for enemy battles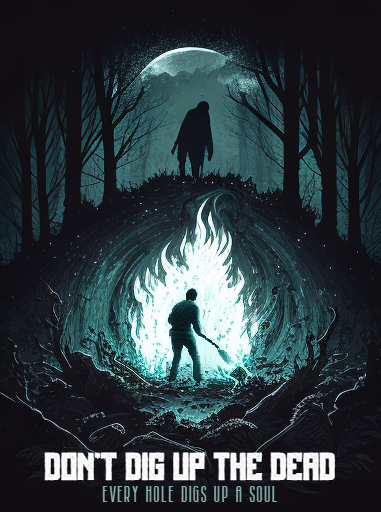 Download
Click download now to get access to the following files:
Don't Dig Up the Dead (Windows)
1 MB
Don't Dig Up the Dead: Deluxe Edition (Win)
2 MB
if you pay $2 USD or more